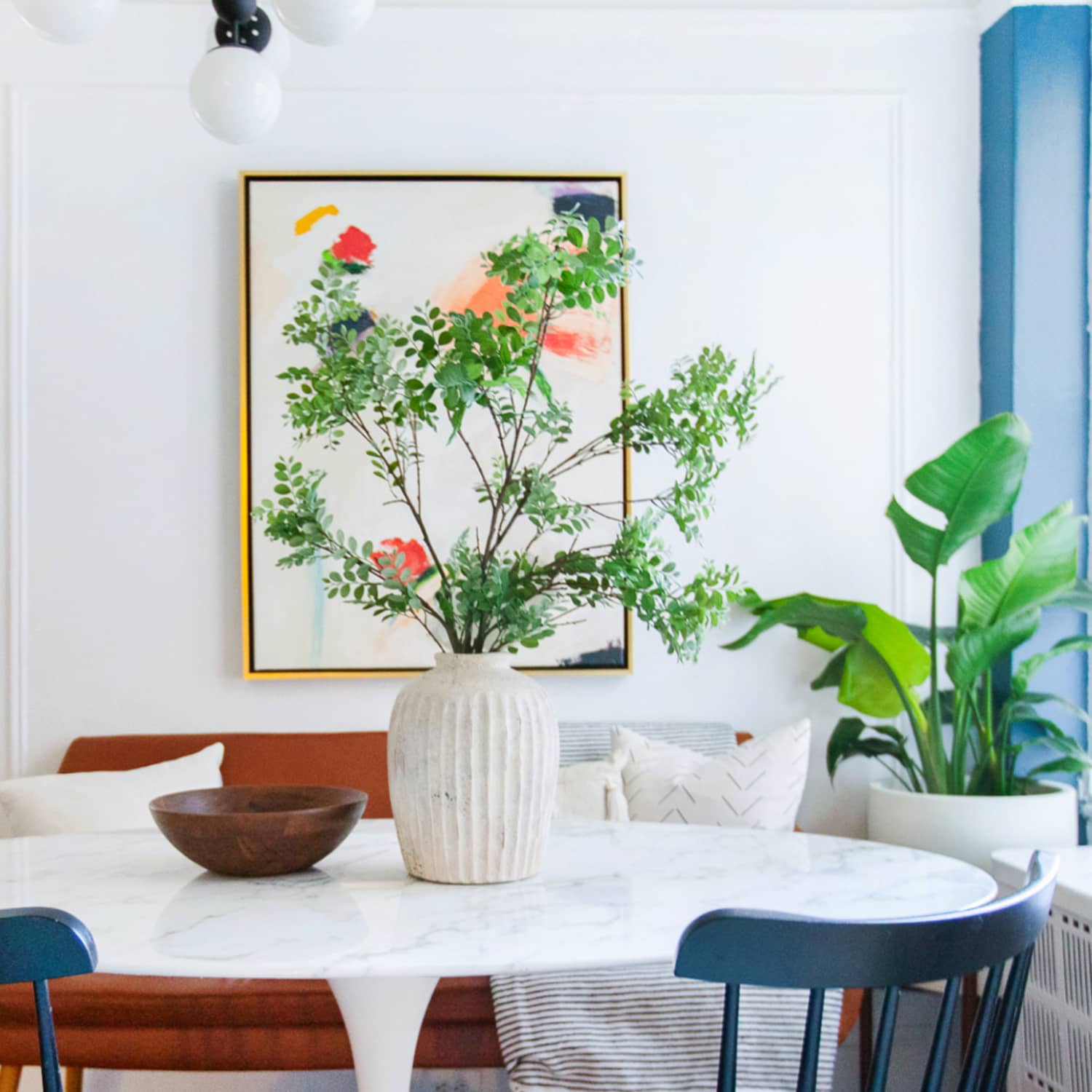 Typically, I'm all about that "new year, new you" mentality. There's no better time to start fresh than the advent of a new calendar year, where positivity is flowing and anything seems possible. This year though, something about making resolutions and big promises to eat healthier and be neater just feels kind of… overwhelming? Just three weeks into January, and honestly, things have already been pretty eventful.
Still, I didn't want to completely lose out on making 2021 feel fresh and full of potential, especially when it comes to ensuring my home feels like a place that is happy, serene, and full of joy. The solution? I tapped some of my favorite pros to bring you 21 smart, easy, and simple ways to refresh your space — and your mentality — for 2021. Let's forget the pressure of making it the best year yet but embrace the idea of good enough instead.
1. Swap out your lightbulbs
Overhead lighting is one of those sneaky swaps that can make all the difference in your home and mood. When my husband and I first moved into our new house, we were living with the bulbs the previous owner left behind (let's be honest, when you move into a 200-year-old house, bulbs are not usually the first fix on the list). I couldn't figure out why the space looked so harsh and un-homey; I knew it had to be more than the fact that we were still living among boxes.
Turns out, the fix was easy. We switched the majority of our light bulbs to Philips Hue smart bulbs, which allows us to change up the color of our lighting using an app. Through playing around with our bulbs, I found I prefer the look of 3000 Kelvins, which give our space a warm glow and instantly made me feel more comfortable. 
2. Choose a signature scent for your home
"Now that our homes have become our everything — our gym, our bar, our sanctuary — I think it's important to make sure your space empowers you rather than makes you feel confined. Scent is the strongest trigger of memory and emotion, so it's an easy way to boost your mood and create different vibes and feel-good moments in your everyday life at home. I've been calling this concept 'interiential (a combination of interiors and experiential)'; it's part of the art of living well, manifesting little moments of joy for yourself in your day-to-day, and habituating those healthy rituals as part of your self-care.
If you've got some serious career goals ahead of you, I recommend lighting up our champagne-infused Chandelier candle to sparkle your way into celebrating your next promotion — you can keep it burning on your desk while you work! Likewise, if you're having trouble sticking to a regular sleep cycle, the smoky embers and incense of Kindling are the perfect complement for a new and improved wind-down routine. Cozy up with that book you've been meaning to read and let it help you relax at night." —Abigail Cook Stone, co-Founder and CEO of Otherland candles
3. Add architectural interest
"To add visual interest in your home where there may not be any, try incorporating an architectural antique for instant character and coziness. I love bare wood antiques especially. We have a salvaged fireplace mantel that has been styled everywhere from my daughter's bedroom to our hallway." —Angela Wheeler, interior designer and owner of Angela Wheeler Design
4. Mock up some new inspo
Craving a change but aren't sure where to start? Play around with a design mood board program like Spoak before making any big moves. You can use this cheap genius online tool to create living renderings of your space with your furniture picks and palettes while learning the ins-and-outs of design along the way. Prefer things to be a little more lo-fi? Copy blogger Athena Calderone's stylish DIY pin board project, which she created with home center materials (pieces of Homasote, burlap, white paint) and is shown above.
5. "Write" your home a (mental) thank you note
"Set aside time to ground yourself in your space each morning. Put on a timer for five minutes to just breathe deeply and focus on the subtle sounds in your space. Do you hear birds chirping outside? A soft breeze hitting your windows? Notice the sensations associated with your space, and as you breathe, focus on gratitude for your home and all that surrounds you." —Amanda Huggins, anxiety and wellness coach
6. Declutter and donate
"I know the beginning of the year is a popular time to declutter, but this year I purged even more than usual when I realized I only wore five of the 28 lipsticks that I owned. There are a lot of people in need this year, so bonus points if you donate to a church, food pantry, or another organization." —Dr. Ijeoma Kola, lifestyle blogger and public health researcher
7. Prepare for anything
"Having supplies and food ready for an unexpected disaster is in the back of all our minds, so why not put yourself at ease and be ready for the unexpected in as stylish of a way as possible? We decided to tie a bow on all the apocalyptic craziness of 2020 by gifting our clients JUDY disaster preparedness kits, which include everything from glow sticks and emergency blankets to energy bars." —Emilie Munroe, interior designer and owner of Studio Munroe